PeproTech产品涵盖免疫调节蛋白、白介素、集落刺激因子、生长因子、化学趋化因子、干扰素、脂联素、成纤维生长因子、转化生长因子、肿瘤坏死因子、神经营养素和防御素等诸多生命科学研究领域中重要的生物活性分子。
产品描述/

PERFORMANCE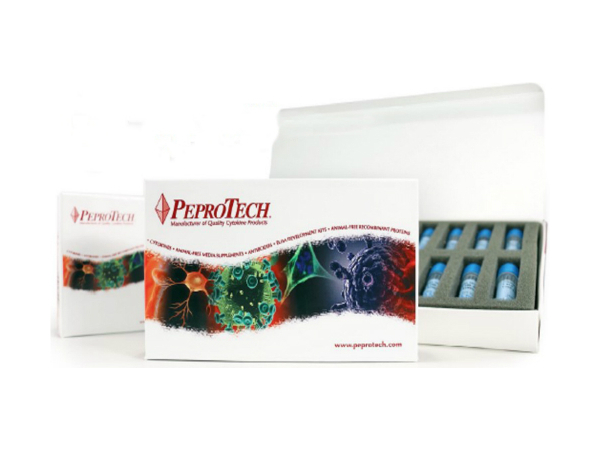 PeproTech产品涵盖免疫调节蛋白、白介素、集落刺激因子、生长因子、化学趋化因子、干扰素、脂联素、成纤维生长因子、转化生长因子、肿瘤坏死因子、神经营养素和防御素等诸多生命科学研究领域中重要的生物活性分子。

Neuregulin/Heregulin is a family of structurally-related polypeptide growth factors derived from alternatively spliced genes (NRG1, NRG2, NRG3 and NRG4). To date, there are over 14 soluble and transmembrane proteins derived from the NRG1 gene. Proteolytic processing of the extracellular domain of the transmembrane NRG1 isoforms releases soluble growth factors. HRG1-β1 contains an Ig domain and an EGF-like domain; the latter is necessary for direct binding to receptor tyrosine kinases erb3 and erb4. This binding induces erb3 and erb4 heterodimerization with erb2, stimulating intrinsic kinase activity that leads to tyrosine phosphorylation. Although HRG1-β1's biological effects are still unclear, it has been found to promote motility and invasiveness of breast cancer cells, which may also involve up-regulation of expression and function of the autocrine motility-promoting factor (AMF). Recombinant Human Heregulinβ-1 (HRG1-B1) is a 7.5 kDa polypeptide consisting of only the EGF domain of heregulinβ-1 (65 amino acid residues).
产品说明
/ INSTRUCTION
Cat.NO: 100-3
Source:
E.coli
Synonyms:
Neuregulin1 (NRG1-β1), Neu differentiation factor (rat), HRG, HRG1-β1, Breast cancer cell differentiation factor p45, ARIA (Acetylcholine, Receptor Inducing Activity), glial growth factor
AA Sequence:
SHLVKCAEKE KTFCVNGGEC FMVKDLSNPS RYLCKCPNEF TGDRCQNYVM ASFYKHLGIE FMEAE
Purity:
≥ 98% by SDS-PAGE gel and HPLC analyses.
Biological Activity:
The ED50 was determined by the dose-dependent stimulation of the proliferation of human MCF-7 cells is ≤ 0.5 ng/ml, corresponding to a specific activity of ≥ 2 x 106 units/mg.
Calculated Molecular Weight:
7.5 kDa
Accession Number:
Q02297
Gene ID:
3084
crossreactivity:
Dog, Human, Mouse, Rat
Country Of Origin: USA
Not for human use.